Why Should I Hire a Business Coach?
Michael Jordan. Wayne Gretzky. Bill Gates. Barack Obama. The CEO of Intuit. The President and CEO of Sun Microsystems. The list goes on and on. Each of these individuals, who inarguably reached the pinnacle of their professions, took advantage of coaching. Having a coach helps you live as your most authentic self, attain the necessary clarity to make great decisions, offers accountability from a place of neutrality, and offers you a wealth of experience and knowledge to draw on.
Having a coach also keeps you in a state of lifelong learning. For most people, our rate of learning slows down somewhere after high school, college, or graduate school. It takes a conscious commitment to make sure we keep growing and learning throughout our lives. Coaching is a great way to stay in a growth mindset.
An investment in coaching allows for a consistent opportunity to look strategically at your business, career, and life. This conscious commitment helps you stay mindful and grounded as you make the decisions which determine the success of your companies, teams, career, relationships, and more.
If you're the type who likes to do more research before making a decision, there's no need to take my word for it. Check out the following articles on the benefits of using a business coach!
Inc. Magazine: The Secret Weapon of Wildly Successful People
Entrepreneur.com: 8 Key Reasons Why Every CEO Must Have a Coach
Financial Post: Why great leaders have a coach behind them
Philadelphia Business Journal: Why even the most successful CEO still needs a good coach
Business Coaching is an Investment in Yourself
Investing in yourself is the best investment you can make… and that's exactly what you'll be doing when you hire a business coach. Your business and its market are in a constant state of change. Is your personal rate of growth as a leader keeping up? When you're at the top of an organization or team, sometimes it's hard to stay in a growth mindset. Work is busy! You have to be on top of your day-to-day projects while keeping your mind on long term strategy. Your team needs you to remove roadblocks, not to mention mentoring. You may wear many hats, each with a different challenge. And, of course, there's always a fire of some sort to put out! Where does your learning come from? How do you get neutral feedback? Who's helping you not just to grind, but to grow? As a business coach, it's my privilege to co-create a space in your schedule to focus on your own growth.
Business Coaching gives you a Loyal Partner
Have you ever wished for the stability of having a business partner? Someone to bounce big ideas around with, someone to steady you when you're upset, and someone to celebrate wins with? A business coach can be that kind of a partner, but without taking half the equity in your business! Once I get into a rhythm with my clients, I frequently become their first or second call when something goes right or something goes wrong in their business. Our relationship offers all the benefits of having a business partner with none of the drawbacks.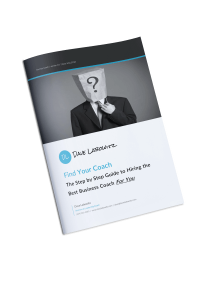 FREE DOWNLOAD:

Find Your Coach
Finding the right business coach can be challenging! This step by step guide helps you select which criteria to use and which questions to ask to make sure your coach has the right experience and is a good fit for you.
Business Coaching gives you a Trusted Advisor
Growing up, we had our parents, older siblings, and teachers. If we needed a question answered by someone who understood things, we called them. Do you remember how the adults always seemed to know everything?! Knowing we could ask when we got confused and they'd set us straight was one of the greatest things about being a kid. Once you get out in the business world, though, who do you call when you need help figuring something out? What about when you strike out on your own? Uncertainty abounds everywhere, especially when you're doing new things for the first time! As a business coach, I can be that reassuring and stabilizing voice. When you need a question answered, or need to bounce something off someone, you can reach out to me. You don't have to worry about whether or not the question makes perfect sense, or whether it's something you "should" know… just ask. I've been where you are. I spent over a decade building companies and leading teams and have been involved on some level with just about every part of a functioning company. And while I may not always have the exact answer to your question because no one is an expert on everything, I'll always be able to help you figure it out!
Act now to renew your commitment to lifelong learning!
Life and business move fast, so if you would like to discuss working together, send me a note right now before you tumble into working on something else! I'll suggest a few different times for a discovery phone call and you can easily pick one (or suggest a time of your choosing) and book it directly onto both our calendars via a link in my email. A discovery phone call is free and comes with absolutely no pressure or obligation. My goal for the call is for us to get to know each other a bit, see if there's a match between your needs and my skillset, answer all your questions, and let both of us assess fit. In advance of our call, feel free to download and work through my Free Step by Step Guide to Hiring the Best Business Coach For You!