Start - Business Coaching
"I'm not afraid of dying, I'm afraid of not trying."Jay Z
There's only one thing all successful entrepreneurs have in common…
Courage? Resources? A business plan? Great connections? Financing? No! Those things all help, but some people have all of them and some people have none of them. The ONLY THING all successful entrepreneurs have in common is that they all started a business. Action is what matters!
I remember the first time I thought about starting a business but talked myself out of it. I was too young. I didn't have the resources. The idea was too big, too scary. I didn't know what I was doing. I didn't even know what questions to ask! Years later, I saw a business just like my idea in the news. It had just raised $15 million in venture funding. The idea was sound. The difference was that they took action and I didn't.
Don't miss out on your idea!
The rewards I've gotten from entrepreneurship are peerless. Start a business and go on the ride. Get in the arena! It'll crack you open and reforge you into the best version of yourself. And you don't have to do it alone.
I'm sure you could start your business on your own, but that path is challenging, slow, and fraught with expensive mistakes. Your early decisions have a huge impact on the future of your business. Imagine how much more peace of mind and confidence you'll have being able to discuss your options with a deeply experienced business coach.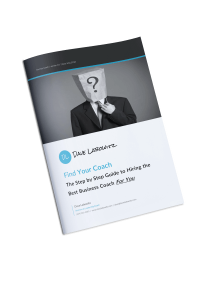 FREE DOWNLOAD:

Find Your Coach
Finding the right business coach can be challenging! This step by step guide helps you select which criteria to use and which questions to ask to make sure your coach has the right experience and is a good fit for you.
Having a business coach at this stage doesn't just accelerate your progress and save you from a myriad of costly mistakes, it shrinks your world of focus. The challenge of entrepreneurship can seem overwhelmingly massive with virtually unlimited things to discover and learn.
In reality, the world of business is finite, and having an experienced coach in the early days helps you filter out the noise and focus on the things that move you forward the most.
Act now to improve your chance of a successful launch!
If you're working toward launching your business and would like to discuss working together, send me a note right now before you tumble into working on something else! I'll respond with an email suggesting a few different times for a discovery phone call. You can book the call onto both of our calendars via a link in my email or feel free to suggest a time of your choosing. A discovery phone call is free and comes with absolutely no pressure or obligation. My goal for the call is for us to get to know each other a bit, see if there's a match between your needs and my skillset, answer all your questions, and let both of us assess fit.
In advance of our call, you're welcome to read through my free download: Find Your Coach – The Step by Step Guide to Hiring the Best Business Coach For You!