Scale - Business Coaching
"Why try to climb Mount Everest without a sherpa?"
Getting a business to scale is a roller coaster
There's nothing like the wins in building a business! But if you want to achieve scale, you also have to cope with the stressors. There's nowhere to hide when you're leading a company, and the high stakes of entrepreneurship have a tendency to magnify our successes and failures.
I remember the sense of accomplishment the first time I raised a round of financing, the first time a company tripped over from the red to the black, and the first time a company I helped build exited.
I also remember the sense of personal responsibility I felt when having to pay payroll out of my pocket, when an angry customer abused one of my team members, and the exhaustion I felt after working on a critical deadline for 72 hours straight with no sleep.
Do you know the secret to scaling a business?
Jim Collins would tell you it's about getting the right people in the right seats. Tom Hopkins would tell you it's about mastering your fear of selling. Eric Ries would tell you it's about staying agile and moving and flowing with the market. Simon Sinek would tell you it's about explaining your 'why' to customers and team members. Gary Keller would tell you it's about staying focused and keeping your priorities straight. And Jocko Willink would tell you it's about staying disciplined.
Here's the thing: they're all right! There is no one secret to scaling a business, which is why it's so challenging! If you're trying to ramp a business beyond $750,000 or so, things start to get much more complex. You'll probably need growth capital beyond the capacities of your personal circle. You'll need to assemble a team of leaders, not just doers. You'll need to leverage metrics and reports to make decisions. You'll need to start planning for longer time periods, and you'll need to initiate and exemplify a healthy culture.
There's a lot of exciting things to learn and always a new challenge or ten to tackle. You will inevitably make mistakes, and if you want to be a winner in the long run, you'll learn to embrace them and learn from them.
Why a business coach?
With the vast breadth and depth of challenges in front of you as you scale your business, having a business coach who has been there before can be invaluable. On the business side of things, your coach can help you chart your course, analyze your results, and give you an important outside perspective.
Perhaps, most importantly, your coach can help you with your personal development. As the senior leader, ultimately, there's no one in your organization you can discuss certain issues with. Your coach can help you find your best answers when you're confused, prepare you for challenging or high stakes conversations, hold you accountable, and aid you in better understanding how your emotions and deep-set beliefs show up and influence your business results.
Between a decade-plus scaling startup companies and over 700 hours training on leadership and personal development, I am uniquely positioned to help you find your optimal path.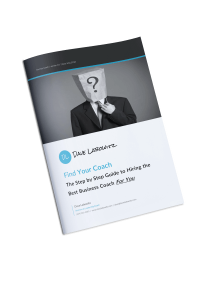 FREE DOWNLOAD:

Find Your Coach
Finding the right business coach can be challenging! This step by step guide helps you select which criteria to use and which questions to ask to make sure your coach has the right experience and is a good fit for you.
Act now to renew your commitment to lifelong learning!
Life and business move fast, so if you would like to discuss working together, send me a note right now before you tumble into working on something else! I'll respond with an email suggesting a few different times for a discovery phone call. You can book the call onto both of our calendars via a link in my email or feel free to suggest a time of your choosing. A discovery phone call is free and comes with absolutely no pressure or obligation. My goal for the call is for us to get to know each other a bit, see if there's a match between your needs and my skillset, answer all your questions, and let both of us assess fit.
In advance of our call, you're welcome to read through my free download: Find Your Coach – The Step by Step Guide to Hiring the Best Business Coach For You!