Why should I hire a business coach?
What are we going to talk about?
You're free to talk about anything you want. Some topics are very specific, tactical business issues like how to refine an investor pitch or how to draw actionable information from a complex data set. Others are more strategic issues like how to approach a challenging conversation with a boss, peer, or direct report or how to position your business in the market.
Don't be surprised, though, if your initial business-specific topic ends up transitioning into a deeper, more personal conversation about feelings, purpose or a similarly sensitive subject. Business challenges can often spin out of internal upset or misalignment, and you'll be surprised how often the business path becomes clear once you've done some work to get to your inner truth.
Are coaching sessions in person or online?
Normally via phone or video Skype, which enables me to serve people regardless of locale. If you're in the Los Angeles area and we can find a private place to meet I'm happy to do sessions in person.
How long does each coaching session last?
Most sessions last between an hour and two, with an hour being the minimum. It's often hard to get to the real heart of an issue in an hour, so I'd suggest planning for at least an hour and a half per session, and probably keeping two hours blocked on your calendar. There's nothing worse than having a calendar hard-stop interrupt the meatiest and deepest part of a coaching session!
Can my company pay for coaching?
Absolutely! Business coaching is a deductible expense which is generally paid out of a G&A education budget. That being said, if you're an entrepreneur or solopreneur and it's your business, you'll pretty much be investing in yourself.
If you work in a larger organization, leadership coaching can be either a personal investment in yourself or a business expense paid out of a departmental education budget. Depending on your company's approach to team education, you may be able to get corporate sponsorship to partially/totally cover the cost of coaching. If your boss is receptive, I'll be happy to hop on a call with both of you to discuss how it can work and how you'll both benefit. Alternatively, I can send you a more formal written proposal for you to share.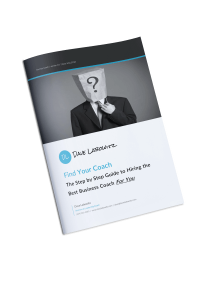 FREE DOWNLOAD:

Find Your Coach
Finding the right business coach can be challenging! This step by step guide helps you select which criteria to use and which questions to ask to make sure your coach has the right experience and is a good fit for you.
What's YOUR mission? Let me help you figure it out!
Download my free, comprehensive guide to mission statements, vision statements, core values, and operating principles. Be intentional with your planning and culture!