"Leadership is personal development, performed in public."
Have you experienced the joy of seeing your teams gel together and exceed all expectations? Do you know how amazing it feels to be told you are a fantastic leader or the best boss someone ever had? Have you had the honor of your former team members going out of their way to stay in touch, call for advice, or invest in being friends years later?
I have, but my career didn't start out that way. I had to evolve. I started out as a control-oriented micro-manager, hiding behind a veneer of how I thought a professional executive should act. I didn't mean to be that way, but that's how I showed up at the beginning. What I learned was that I had been focusing on management at the expense of leadership.
Leadership is transformational
I had a lot of transformation to go through, and I was fortunate to have some fantastic mentors along the way. The journey was challenging, but it was, without any doubt, the single most rewarding part of my career. If you're leading a team or teams, you have the opportunity to change not just the careers, but the lives of your team members for the better! And, in doing so, you may just find that you've evolved into the best version of yourself.
The people stuff isn't easy. If you're a kind and empathetic person you will still need to have difficult, direct conversations. If you're more of a tough type there will be times when you will need to let down your guard and be vulnerable to create connections with people. Leadership means learning to work outside of your comfort zone!
And, of course, team members can be difficult. They can underperform. They will inevitably frustrate you. And vice versa! Regardless, you have to work together and work together well if you want good results.
Leadership challenges are diverse
That leads to the business side of leadership: recruiting, interviewing, setting expectations, coaching and mentoring, performance reviews, PIPs, exit interviews, terminations, and more. You will need to lead through many difficult choices that are stressful for both you and your team members. But if you approach them with authenticity, respect, and hold strong to your values, you can both come out stronger for it.
Why leadership coaching?
Whether you're leading your first team or an established leader who wants to up your game, leadership coaching will help you grow. Leadership has a tendency to trigger a lot of inner dialogue and having a coach to ask you the right questions and offer neutral feedback is vital to building insight and wisdom. We can also process the stress which comes from carrying the responsibility of leadership or strategize on how to handle challenging conversations with your team. Or we can get more tactical by reviewing the best practices in human resources management so you're comfortable you're working from an effective blueprint.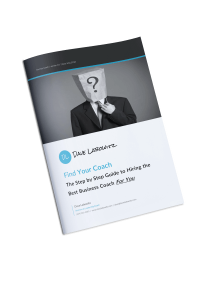 FREE DOWNLOAD:

Find Your Coach
Finding the right business coach can be challenging! This step by step guide helps you select which criteria to use and which questions to ask to make sure your coach has the right experience and is a good fit for you.
Act now if you are ready to evolve as a leader!
If you think you would like to discuss working together, send me a note right now before you tumble into working on something else! I'll respond with an email suggesting a few different times for a discovery phone call. You can book the call onto both of our calendars via a link in my email or feel free to suggest a time of your choosing. A discovery phone call is free and comes with absolutely no pressure or obligation. My goal for the call is for us to get to know each other a bit, see if there's a match between your needs and my skillset, answer all your questions, and let both of us assess fit.
In advance of our call, you're welcome to read through my free download: Find Your Coach – The Step by Step Guide to Hiring the Best Business Coach For You!